| | | |
| --- | --- | --- |
| | WORK IN PROGRESS | |


"Amethyst Wish"
The books I enjoy most are those in which the author creates a setting as real as any of his or her characters. As much as I strive to create such rich settings myself, it's still true that a picture is worth a thousand words, so I thought you might enjoy seeing some pictures of one of the key settings in Amethyst Wish, the abandoned ruins where my hero and heroine first meet.
Quarai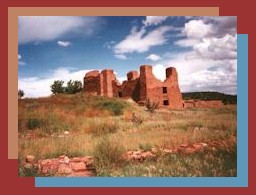 "An edifice in ruins . . . so tall, so solemn, so dominant of that strange lonely landscape. . . . On the Rhine it would be a superlative; in the wilderness of the Manzanos it is a miracle."
~Charles F. Lummis,
Land of Poco Tiempo
Nestled in the eastern foothills of the Manzano Mountains you'll discover the red sandstone ruins of Quarai, one of three sites in the Salinas National Monument.
Quarai was originally settled by Tiwa-speaking people in 1300-1350 AD, and construction of the mission church was begun under the guidance of Fray Juan Gutierrez de la Chica around 1628. Quarai was abandoned by 1678 after years of drought, famine, disease and frequent attacks by the Apache.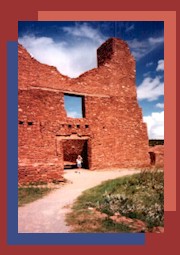 From a distance, the ruins of the mission church don't look very large, but as you move closer, you realize how deceiving first impressions can be. The walls are forty feet tall in places, and if you look at the upper right corner of the building, you can see that they're also about six feet thick.
As you move inside the cross-shaped church, you feel a noticeable drop in temperature. What's more, the sound effects inside these walls are an acoustic dream. Even with the roof missing and the walls crumbled, a person standing just inside the entrance can hear their companion whispering from the apse, a distance of 100 feet.
It's easy to imagine yourself drifting back in time until you're almost able to breathe the smoke of incense wafting from a swaying censer and hear the Latin chant of mass . . . or in my heroine's case, the scrape of a boot-heel against the wall when she wasn't aware anyone was there to interrupt her daydreams of a time long past. . . .
So what is Amethyst Wish about?
An idealistic young woman's intolerance regarding the frailty of the human heart is tested when she falls in love with a man whose past is scarred by the dishonor of a brief but illicit affair--an affair even the most forgiving would find difficult to condone.
Brenna Kirkbride idolized her father, and now that he's dead, she's determined to carry on his dream of working the Amethyst Wish mine and uncovering the secret of the legendary lost Spanish silver rumored to be hidden on his claim.
Aidan Shanahan agrees to become her partner, but only so he can solve the mystery of an old friend's murder. Because of his past liaison with an older woman, Brenna's mother, he promises himself not to act on his attraction for this petite young miss. But as Aidan and Brenna work the mine side by side, Aidan's vow becomes impossible to keep, even though he fears the truth will destroy her love.
Amethyst Wish is a romance, but it's also a coming-of-age story--not only for Brenna, but for her mother as well. It's the story of two strong but emotionally wounded women who learn that forgiveness, of self and others, is the true path to unconditional love.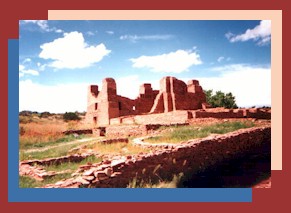 ||top||
||Headquarters|| ||Excerpt|| ||Add Me|| ||Articles|| ||Archives||
||Ranch Life||
||Biography|| ||Photo Album|| ||Links|| ||Webrings||
||Guestbook||